Brittney Niles
REALTOR/Broker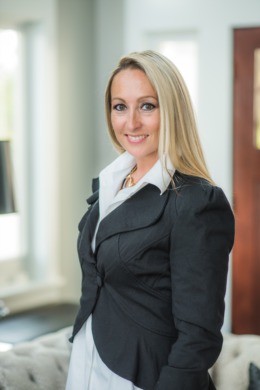 Your Local Real Estate Connection
Brittney is a licensed REALTOR®/Broker based in our Syracuse office.  Brittney is new to the real estate industry, but her experience in sales, marketing and promotions will play key roles in her future success in real estate. Her creative mindset and eye for design will help her clients to see the potential in all types of properties. She graduated in 2008 from Western Michigan University with a Bachelor's in Fashion Merchandising and Design, which took her to Chicago for 5 years where she worked as the Visual Merchandising Manager for Forever 21 and Talbots. The last 8 years she has worked in sales in the apparel and promotional products industry. Brittney's client-centered approach and exceptional customer service skills have led her to work with various sized, nationally known companies in helping them develop and manage their brand identity and promotional marketing programs. As a client of Brittney's, you will be getting a trusted creative partner who will always go the extra mile to the deal done.
Brittney has a deep passion for Lake Wawasee and the surrounding community in which she lives. Brittney grew up close by in Goshen but spent her summers on Wawasee. After living in both Kalamazoo and Chicago for several years, she moved back to the area in 2012. Brittney recently married a Wawasee native, whose family has had deep ties to the Syracuse community for fifty plus years.  
Brittney believes in giving back to her surrounding community and has been involved with organizations such as Chautauqua-Wawasee and Rose Garden Recovery Community. She is currently a member of the Fraternal Order of Eagles #3760, the Kosciusko Cancer Care Fund committee & the Lake Wawasee Flotilla committee. When Brittney isn't busy with clients or planning community events and fundraisers, she enjoys painting, boating, spending time with her husband and their beloved pittie, traveling, designing, advocating for rescue animals, socializing with friends and family, fitness and enjoying a beautiful day outside.