Mariah Yochum
Executive Assistant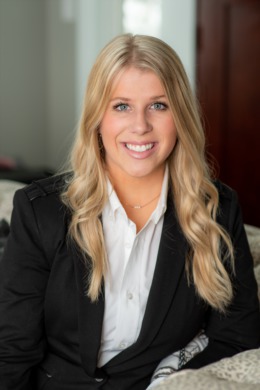 License Number :
RB21000392
Mariah is Executive Assitant to the CEO of The RGroup Real Estate. Mariah is new to the real estate industry, after graduating from Indiana University in the spring of 2020 with her bachelor's degree and finishing her real estate program in October, she then became licensed in December. Mariah was eager to find a team where she could optimize her learning opportunities.  The RGroup Team was simply the perfect fit for exactly what she was looking for. Born and raised in Rochester, IN she adds a different demographic to the team and hopes to help expand The RGroup's reach.
Mariah has a love for the water, living on the Tippecanoe river in Fulton county she understands how many memories and important moment can be held within a home located on water and hopes to help bring our customers any aid they may need in obtaining a home of their dreams.
Mariah enjoys giving back and being actively involved in the community. She  is excited for the opportunity to learn and grow in a new environment. When Mariah is not on the lake or the river, she enjoys spending time in her garden, skiing, or riding her bike. Mariah's spends almost all her free time with her black lab Gracie and coaching the Rochester middle school Tennis Team.
Testimonials
The RGroup did a great job in helping us achieve our goal securing a property. Truly professional and responsive.
Buyer
Angie and Brittney were excellent to work with from start to finish. They handled the sale of my home and the purchase of the subsequent home. The team was professional from start to finish from their suggestion on the home, improvements, advertisement, all the way to helping managing the little issues that pop up along the way. My home sold in 1.5 days after the listing and they even helped mange the incredible traffic that occurred after listing. Their support staff kept me well informed of every step of the process and helped to make sure everything ran smoothly. I couldn't have asked for a better team, they definitely work for their clients.
Seller/ Buyer
This amazing group have sold two of my homes in a very selective market. Angie Racolta is professional, is incredibly helpful and responded to every question or situation I had. I appreciate all that was done for me by all the group and would recommend them to anyone who is looking for a real estate group
Seller
The RGroup did a great job in helping us achieve our goal securing a property. Truly professional and responsive. We will definitely recommend them to any perspective buyers or sellers we know.
Buyer
This is the second time I have used Angie and her group for a home sale/purchase and both times I have been more than satisfied. Angie works hard for her clients from start to finish from finding the right home or the right listing price to managing the work from listing to sale. Her support team is incredible and keeps things moving and kept me well informed from start to finish. The service level that Angie and her team provide are well above those I have experienced in the past and I will (and have) recommended her to anyone I know who is looking to sell or buy.
Seller/ Buyer