About Lake Manitou
Posted by Angie Racolta on Monday, February 1, 2021 at 11:52 AM
By Angie Racolta / February 1, 2021
Comment
Lake Manitou is a magnificent oasis in the small bustling city of Rochester, Indiana. The 775-acre spring-fed lake has an average depth of 11 feet and is surrounded by a serene park and nature preserves. The charming lake provides activities year-round for visitors and city dwellers alike. Lake Manitou provides visitors with lots of activities to enjoy such as fishing, boating, jet skiing, water skiing, swimming, and picnicking. Visitors can also take a leisurely stroll along the many walking trails or in surrounding parks, where you will find unique wildlife viewing and bird watching opportunities unlike anywhere else.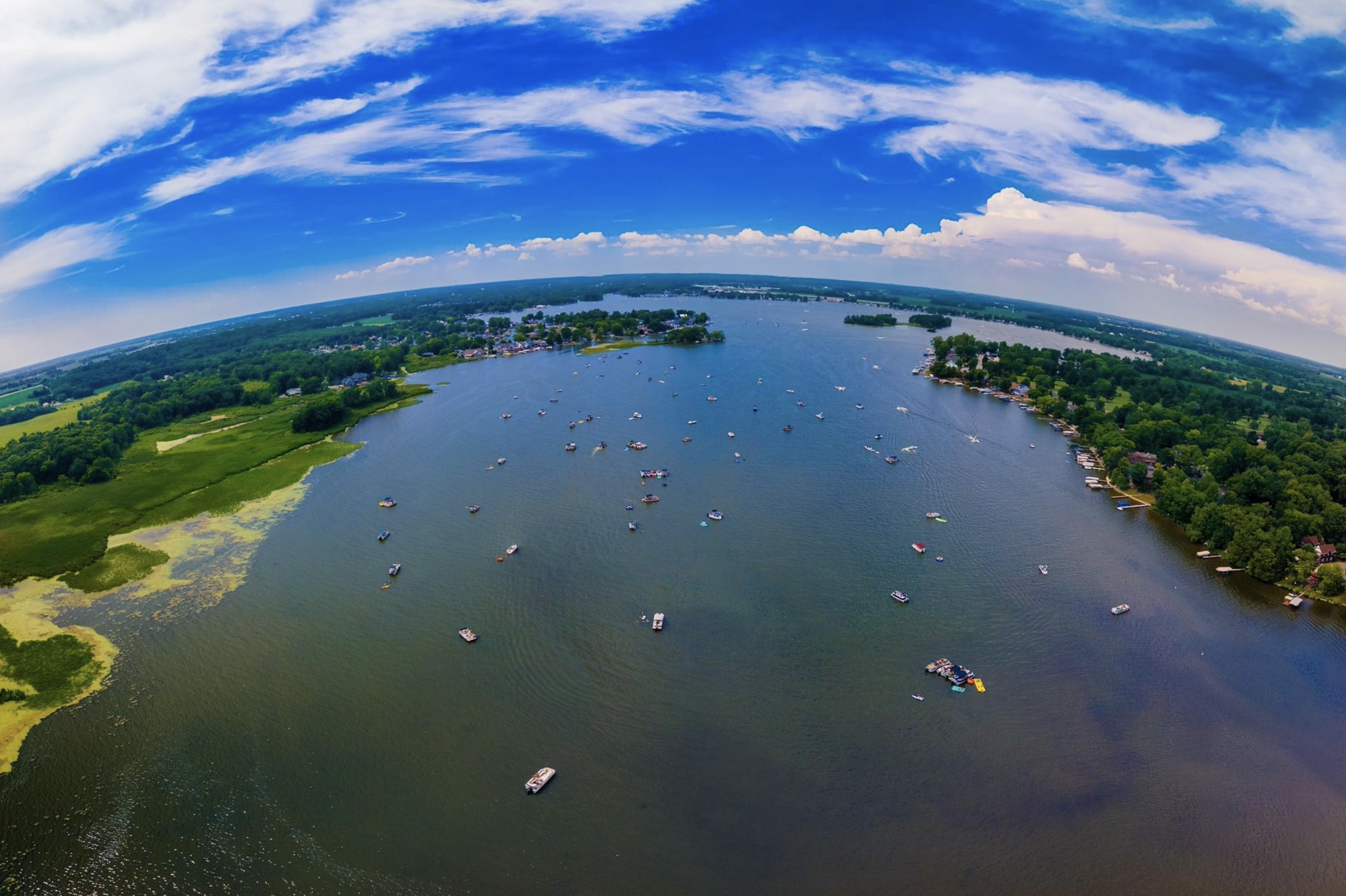 With no speed limit restrictions, Lake Manitou is a popular destination for speed boaters, jet-skiers, and water skiers. The lake is even equipped with a ski course located near the south end of the lake. You can take your equipment down boat ramps on either side of the lake for access to the water. The popular fishing destination harbors lots of popular species for fishing in the summer and winter. Species include largemouth bass, black crappie, bluegill, yellow perch, gizzard shad, golden shiner, spotted gar, and warmouth as well as large northern pike. The lake even offers a handicapped-accessible fishing pier near the dam.

Lake Manitou's parks and nature preserves are a flourishing sanctuary for visitors. Fishing piers, a public boat ramp, picnic areas, and a well-maintained butterfly garden all wrap around the northwestern edge of the breathtaking lake. The 162-acre Bob Kern Nature Preserve and 130-acre Judy Burton Nature Preserve are on the east and west sides of the lake, respectively, and provide rare opportunities to see bird habitats and plant life in the marsh and wooded islands.

The vibrant community of Rochester is home to a rich history and beautiful scenery, making it a destination for recreation and relaxation for over a century. Lake Manitou began as a source of energy for a local corn mill under the terms of a treaty with the Potawatomi Native Americans of the area, where they fished and hunted for 150 years. Now, Lake Manitou has been revitalized and provides a respite for visitors and locals. Vacation rentals with lake views and private docks can be found in the established community of homes along the shores of Lake Manitou.

Relocating altogether is also an option. The Lake Manitou Association is an active association welcoming nearby homeowners. Furthermore, there are some lakefront properties available as well as resale of existing homes.
Enjoy beautiful views while you eat at two of the most popular restaurants right on the water—The Dam Landing and Moose Lodge Club and Dining. Locals in the know will also tell you about the private firework show the night before the city's firework show on the 4th of July. It makes for two spectacular nights of firey celebration, so popular in fact that many who have moved away often come back for this summer holiday.

With the unforgettable nature preserves, parks, and a wide variety of lake activities, Lake Manitou will interest anyone and everyone. The quaint yet lively city of Rochester, home to the charming Lake Manitou, is a wonderful place to visit for anyone searching for a peaceful getaway.