Spring Decorating: Creating Refreshing Outdoor Spaces
Posted by Angie Racolta on Friday, March 31, 2023 at 10:45 PM
By Angie Racolta / March 31, 2023
Comment
Spring is a season of renewal and rejuvenation and what better way to celebrate this than by sprucing up your outdoor spaces? With the sun shining and flowers starting to bloom in Northern Indiana, it's time to go outside and transform your outdoor area into a springtime paradise.
Whether you have a large yard, a small balcony, or something in between, there are simple things you can do to decorate your outdoor space and create a stylish atmosphere.
Use Plants to Liven up Your Space
Add some color and life to your lawn, porch, or backyard with plants. First, de-weed and water your grass for a healthy lawn. For a vibrant focal point, add a flower bed with beautiful blooms. You can choose a variety of flowers in different colors, textures, and heights to create a beautiful and eye-catching display.
Don't have a garden? Hanging plants are another great option for adding greenery to your space. They can be hung from the ceiling or placed on hooks on the wall to create a cascading effect. Potted plants are also a versatile option, as they can be moved around and placed in different areas to add interest and dimension to your space.
A tip for adding plants is to pick different sizes and shapes to create a layered effect.
Freshen up Your Outdoors With Paint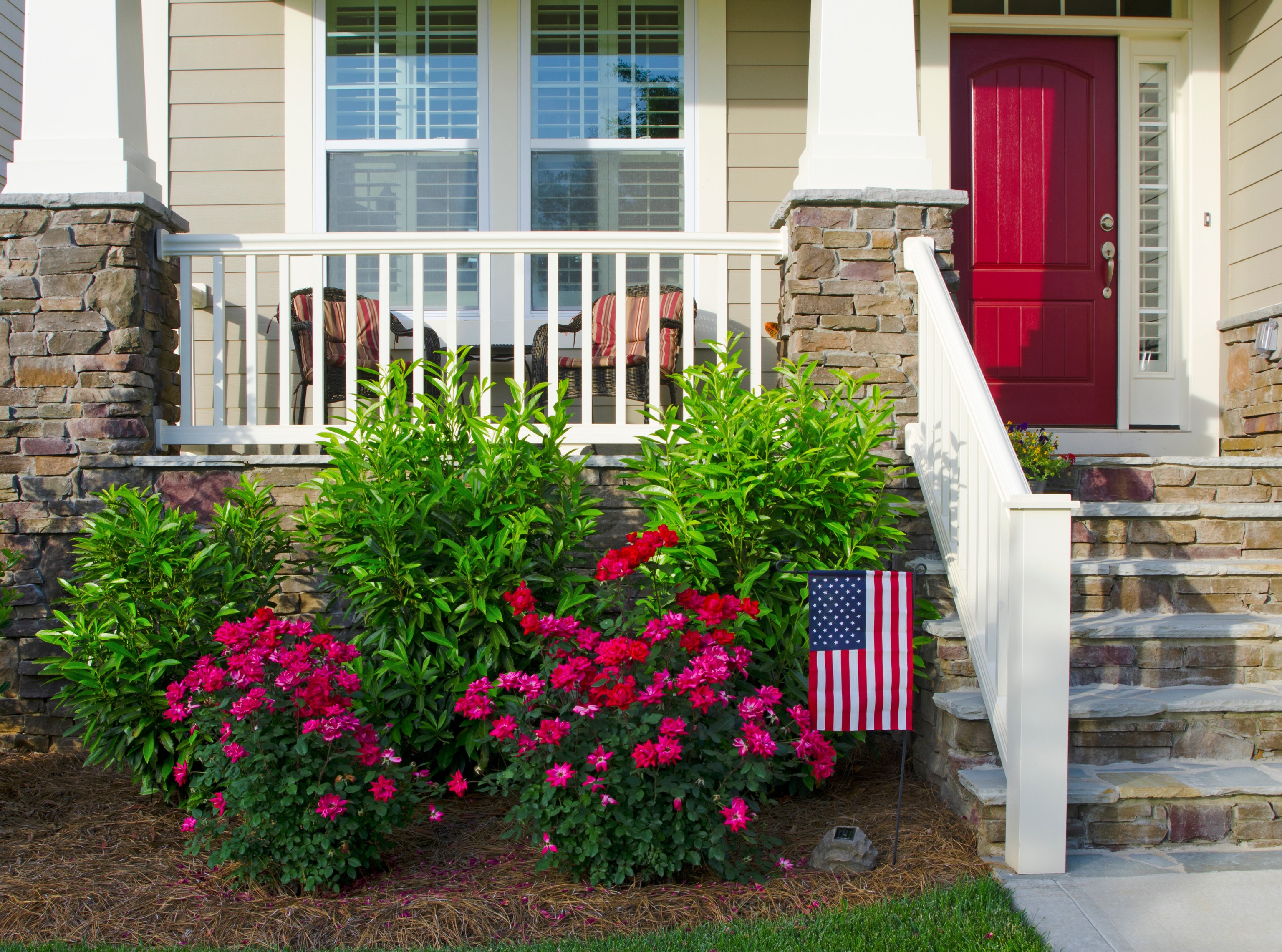 Freshening up the exterior of your home with a new coat of paint is a great way to welcome the spring season. A vibrant paint job will impress and add to your home's curb appeal.
One of the best ways to infuse a bit of seasonal charm into your home is to use spring-inspired colors. Pastel shades like soft yellow, mint green, baby blue, and pale pink are popular choices for a fresh and cheerful look. A pop of bold color, such as bright red or orange, can also add a lively touch to the exterior.
When considering a paint job, it's important to prep the surface properly. Wash the exterior thoroughly to remove dirt and grime, and repair any cracks or damages. A primer coat is also necessary to ensure the new paint adheres properly.
It is also important to consider the color of your home's roof, windows, and trim. Choose colors that complement these existing features. Don't be afraid to experiment with color combinations and get creative with accent walls or trim.
Decorate With Light Colors, Natural Accents & Outdoor Lights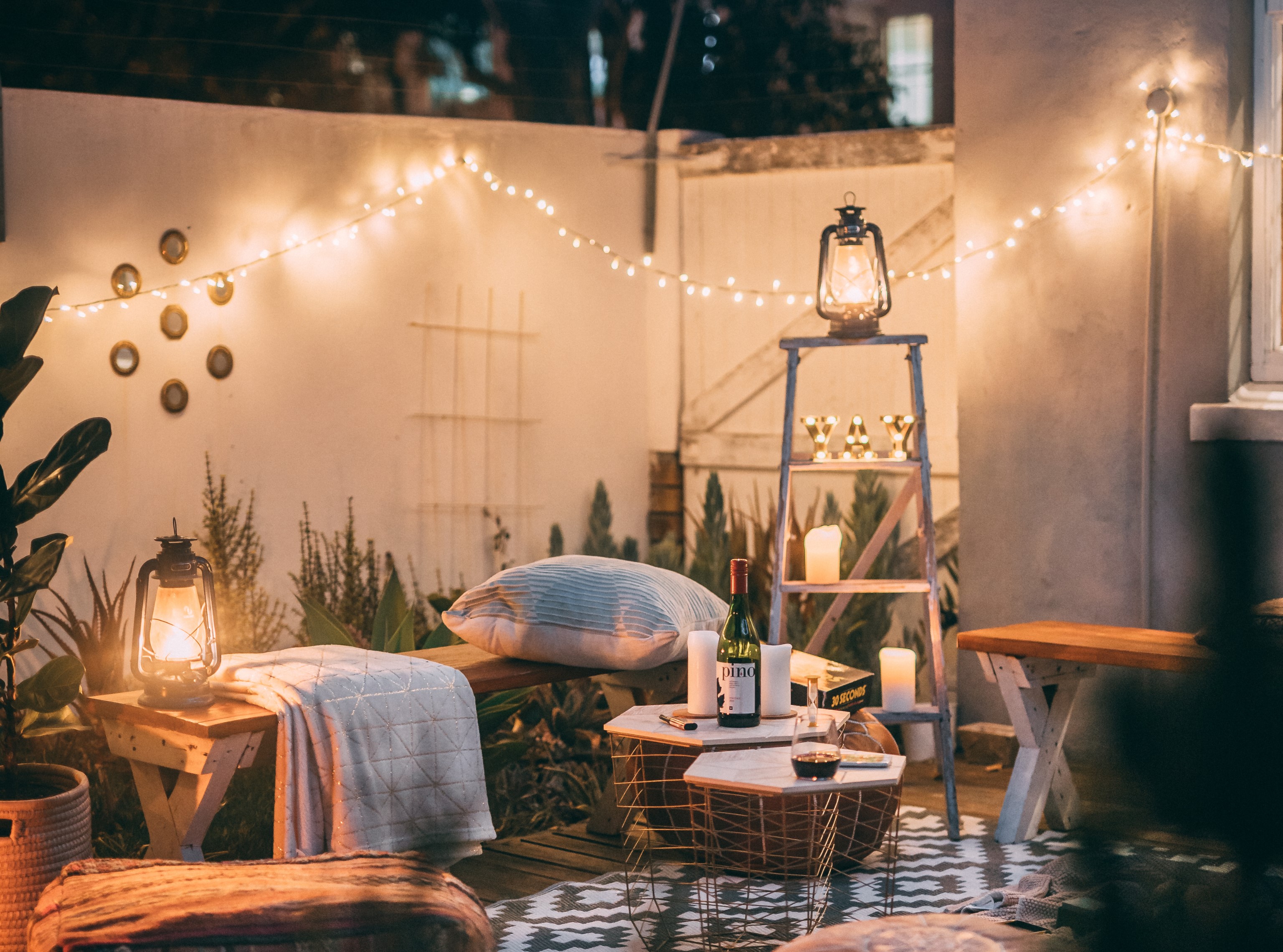 Furniture with natural accents and light colors such as white, light gray, baby blue or mint green create a bright and fresh ambiance. It can also give the illusion of a larger space. Pieces made up of wood, wicker, or even woven seagrass add a natural and airy feel to your space. Another inexpensive way to add color and pattern to your space is by incorporating pillows. You can also consider adding a light-colored outdoor rug to define the space further.
Planning on spending the warm evenings outside? Hanging string lights or lanterns in soft white or yellow hues can also enhance the ambiance and provide a cozy feel for those warm spring nights.
Now, you're ready to enjoy al fresco cocktails and cookouts in your patio or backyard. Not only will these simple steps help you create an outdoor haven, it can also increase your home's value when it's time to sell down the road—especially now that outdoor spaces have been given greater weight as people spend more time at home.